Yes, I've been doing the craft swap thing again. This time on a subject close to my heart - B-movies. This was organised by the lovely Apryl of
Meridian Ariel
fame, who also has great love for these often overlooked bits of celluloid joy.
I was partnered with Lindsey from
ethel and edna
and thinking that I had plenty of time to sort things out, I left it for a couple of days, whilst I planned what to make. Of course, you know what's coming next... emergency jewellery making for my mum's wedding (which was announced, organised and then took place within the space of around two months), commissions for other stuff (another blog post there) and all kinds of nonsense at work.
I found myself completely swamped, but fortunately, fate was smiling on me in her own bizarre and quirky way, as Lindsey was also having similar problems.
Anyway, I eventually got everything done and sent out. In addition to the photos I'm going to share in a second, I also included some utterly gorgeous fabric, ribbons, buttons and lace, all of which I found on Dawanda. And then there were lollipops and Revels for the munchables part.
So here's what I made.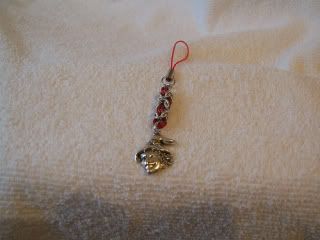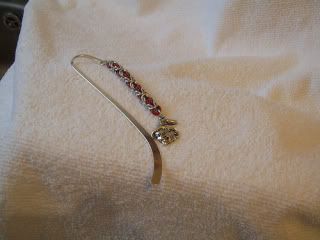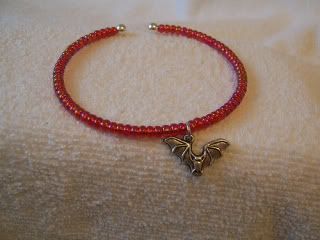 A witch themed bookmark and phone charm and a bangle with a bat charm. The bookmark and phone charm are both done with chainmaille.
And so, what did I get... well, I do feel incredibly spoiled in return, I got SO much. I apologise in advance for the quality of the photos, as I took them on my phone. Anyway, here goes:
Fantastic handmade doll
Amazing crochet amigurumi Godzilla head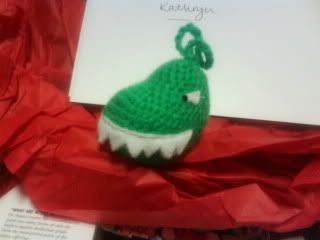 Beautiful crochet flower brooch
A fantastic tea bag holder, which also contained a handmade felty tea bag!
What you can't see there, is the little packet of buttons, in all shades of green.
I also got some craft supplies, sparkly wool, a crochet hook and some lovely rainbowy felt.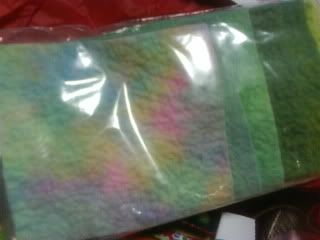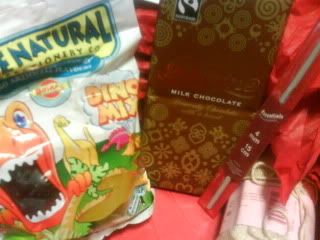 As you can see from that last picture, there was also chocolate and gummy dinosaurs. And a box of tea as well. Lawks!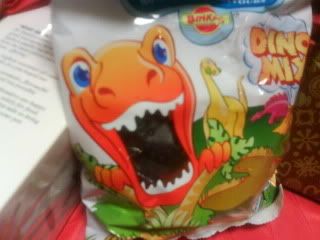 We may have been the last to get our parcels sent off, but in my case at least (and I hope Lindsey feels similarly!), it was definitely worth the wait. Thank you Lindsey for all my fantastic goodies, and thank you to Apryl for organising this one. And the next one I've signed up for (which I promise to send on time!