Yes, that's right. Your eyes do not deceive you. I have won something. Not the Euromillions, but something JUST as good. I'll get to just what it is in a moment, but first, here's how.
I became
The Crafty Ninja
's 100th fan on
facebook
and was awarded a free commission as a result. As I had my mama's birthday coming up, I asked if she could make me a card featuring painting-y type stuff, as mam does watercolour painting and is currently doing a course at the local college. Note the vagueness of my request. And now marvel at the result, which is brilliant. (Any deficiencies on the quality of the pictures are down to me and my rubbish cameraphone, as I was trying to get the card into the post quickly!)
And a close up of the easel...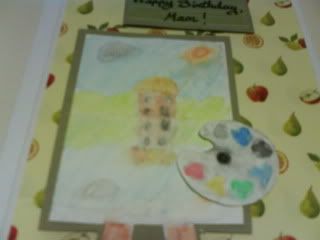 Fantastic, isn't it?! Just the job.
I'd just like to say a great big thank you to the Crafty Ninja (and what a great name, by the way!) for a really wonderful card.