Hmm, famous last words.
Mind you, it's been quite busy recently, but in a good way. One weekend entirely spent out having fun (which is really the best way to spend a weekend) and lots of stuff going on at work.
I did spend this last weekend (including the bank holiday) making things, but due to annoying computer troubles at home, it was impossible to get any pictures uploaded. Still, never mind. I'll blog instead about my other current obsession: tea.
Yes, that's right, tea. Tea of all nations, in fact. I'll pretty much give anything a go (with the exception of Lapsang Souchong, which I tried once and instantly disliked).
This is the current collection of tea: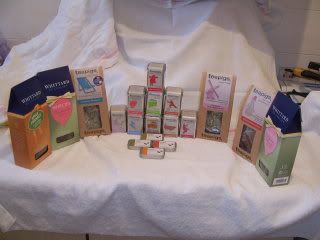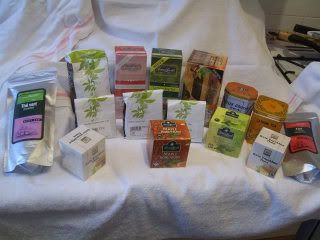 The second lot was purchased during a five day trip to Holland and Belgium. From that little lot, I've only tried the Maple Honeybush (brown box, middle front) and the Rooibos Orange Lemon Lime. Both of which are lovely.
Going back to the first group, the tiny tins at the front are part of a taster set from
Leaf
. It's a great way to try what they have on offer. And included in there was the best camomile infusion I've ever had. Camomile's a bit of an acquired taste and can be extremely hit and miss, but I'd recommend it to anyone to at least give it a go.
Same with Rooibos really. I will admit that the first time I tried Rooibos, I really didn't like it. In fact, I described it as the foul strainings from the devil's jockstrap. I can now admit that I was wrong. I may well have brewed it for too long, or it may just have been a bad batch. Now, however, I really do enjoy it. It's light and refreshing, with a slight woody tang (I know that sounds a bit odd - and possibly quite pretentious - but it's the only way I can describe it!) Anyway, it's well worth a go.
Finally, I'll just mention another fantastic tea webshop:
Teapigs.
They've got some cracking blends there (Summer Flowers is a particular favourite) as well as selling Popcorn Tea (which has toasted rice added to the leaves, to give it a very distinctive taste!) I can't recommend them enough, their service is spectacular. And they do 'taster packs' of most of their teas, in the most dinky little tins, which I'm probably going to use to store beads in, once they're finished.
Right, that's enough wittering from me for the time being, but I shall be updating you on my journey of tea discovery as I work my way through the huge stash I've got. Chin chin!