I've been a bit lax on the old craft front (and on the blogging front) of late, mainly because my get up and go got up and went. The year of craft came to a bit of a standstill, I think because I couldn't decide on exactly what I wanted to do. If that makes any sense. Plus being busier than a busy thing at work meant I was fit for nothing of an evening.
But, after a couple of well deserved holidays, I think it's safe to say that I'm back in the swing of things. And my latest creation is something I've been wanting to do for ages. A chainmaille ring. And one of my favourite weaves, Byzantine. Given that the rings (sterling silver) were so small, it was a wee bit fiddly, but thankfully it didn't have me throwing a tantrum (for a change!)
Without further ado, pictures!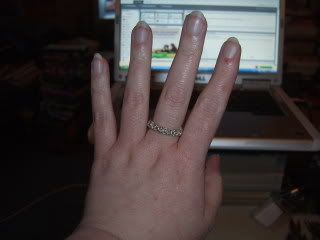 Not too shabby, really. I'm keeping this one for myself, but I might well make some more to sell. Soon.